Organic Deluxe Trail Mix
Select a Size:
Product #868240


This is a great trail mix for people on the go, hiking, biking and other outdoor activities. SunRidge Farms Organic Deluxe Trail Mix is Organic Trail Mix at its finest. An exceptional combination of superior select ingredients, blended together for flavor and convenience. Delicious organic roasted peanuts, organic raw almonds, organic dried apples, organic walnuts, organic date pieces, organic sunflower seeds and organic raisins. The result of this spectacular fusion is a snack that tastes delicious, contains fiber, iron and other nutrients. Kosher Parve (no Dairy) and USDA Certified Organic.
USDA Organic
USDA organic products have strict production and labeling requirements. Organic products must be overseen by a USDA National Organic Program-authorized certifying agent, following all USDA organic regulations.
QAI
QAI (Quality Assurance International) is a leading USDA-accredited organic product certifying agency. Founded in San Diego, California in 1989, QAI has been an active leader in the organic industry, advocating for high integrity organic regulations since its beginning. QAI is committed to ensuring organic integrity at every link in the organic production chain and providing excellent customer service, domestically and internationally.
Non-GMO Project Verified
The Non-GMO Project Product Verification Program is North America's only third-party verification for non-GMO food and products. Third-party verification is the highest quality system when it comes to product labeling and certifications because it ensures products have been comprehensively evaluated by an independent party for compliance with a standard developed by industry experts and stakeholders.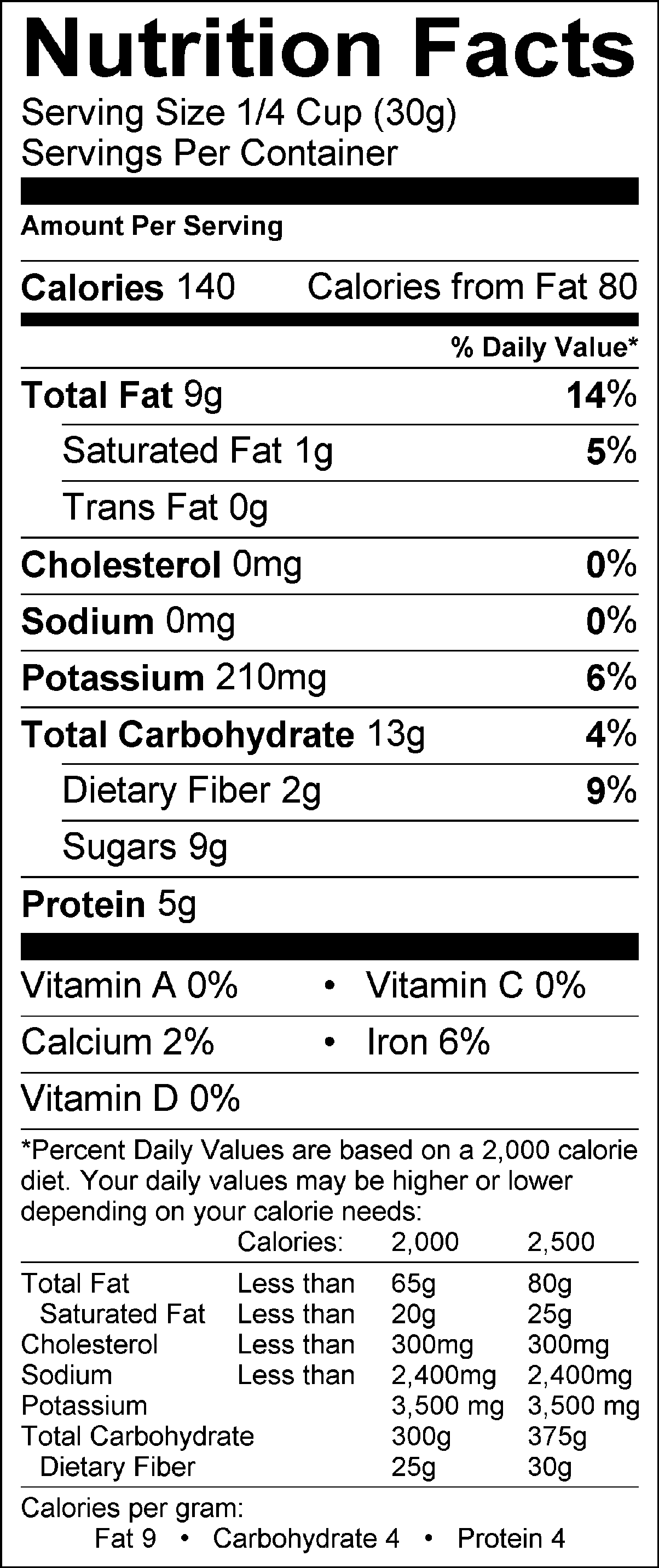 Ingredients:
Organic Raisins, Organic Dry Roasted Peanuts, Organic Sunflower Seeds, Organic Almonds, Organic Dates (organic dates, organic oat flour), Organic Pumpkin Seeds, Organic Walnuts, Organic Apples
Other Details:
Manufactured on shared equipment with peanuts, tree nuts, wheat, milk and soy
USDA Organic, QAI
CONTAINS: Almonds, Peanuts, Walnuts
UPCs: 0‑86700‑68240‑1, 0‑86700‑06110‑7, 0‑86700‑67913‑5, 0‑86700‑67926‑5
Date added: 11/17/11
Preparation Tips:
Mix with milk for a nutritious breakfast!
Related Products
Organic Cranberry Harvest Mix, Non-GMO Project Verified

Organic Hit The Trail Mix - Energy Go size available

Organic Supreme Fruit and Nut Mix

Yogurt Raisins - Energy GO size available

Organic Dark Chocolate Bananas - Fair Trade Certified

Organic Jolly Beans

Dark Chocolate Almond Caramel Chews

Organic Epic Adventure Mix

Organic Brown Sesame Seeds

Kid's Mix

Dark Chocolate Peanut Raisin Clusters

Organic Wild Rice

Tamari Roasted Whole Cashews

Organic White Quinoa

Wasabi Tamari Almonds

Cocoa Powder, Guittard

Fruit and Nut Mix

Golden Figs

Pecan Pieces - Fancy Grade

Dates - Pitted Deglet Noor

Walnuts - Halves and Pieces Combo