Organic Hit The Trail Mix - Energy Go size available
Select a Size:
Product #006113



Hit The Trail Mix Organic is our classic snack for backpackers, hikers, mountain bike riders and athletes of all ages, that share a passion for the outdoors. Simply put, this is a spectacular Trail Mix that keeps your engine running at high revs, while you enjoy a healthy outdoor lifestyle. The classic combo of sun splashed raisins, roasted peanuts, tamari roasted almonds, tamari roasted sunflower seeds, pumpkin seeds, and cashews reminds you that great taste and health can go with you wherever you seek adventure. Kosher Parve (no Dairy) and USDA Certified organic.
USDA Organic
USDA organic products have strict production and labeling requirements. Organic products must be overseen by a USDA National Organic Program-authorized certifying agent, following all USDA organic regulations.
QAI
QAI (Quality Assurance International) is a leading USDA-accredited organic product certifying agency. Founded in San Diego, California in 1989, QAI has been an active leader in the organic industry, advocating for high integrity organic regulations since its beginning. QAI is committed to ensuring organic integrity at every link in the organic production chain and providing excellent customer service, domestically and internationally.
Non-GMO Project Verified
The Non-GMO Project Product Verification Program is North America's only third-party verification for non-GMO food and products. Third-party verification is the highest quality system when it comes to product labeling and certifications because it ensures products have been comprehensively evaluated by an independent party for compliance with a standard developed by industry experts and stakeholders.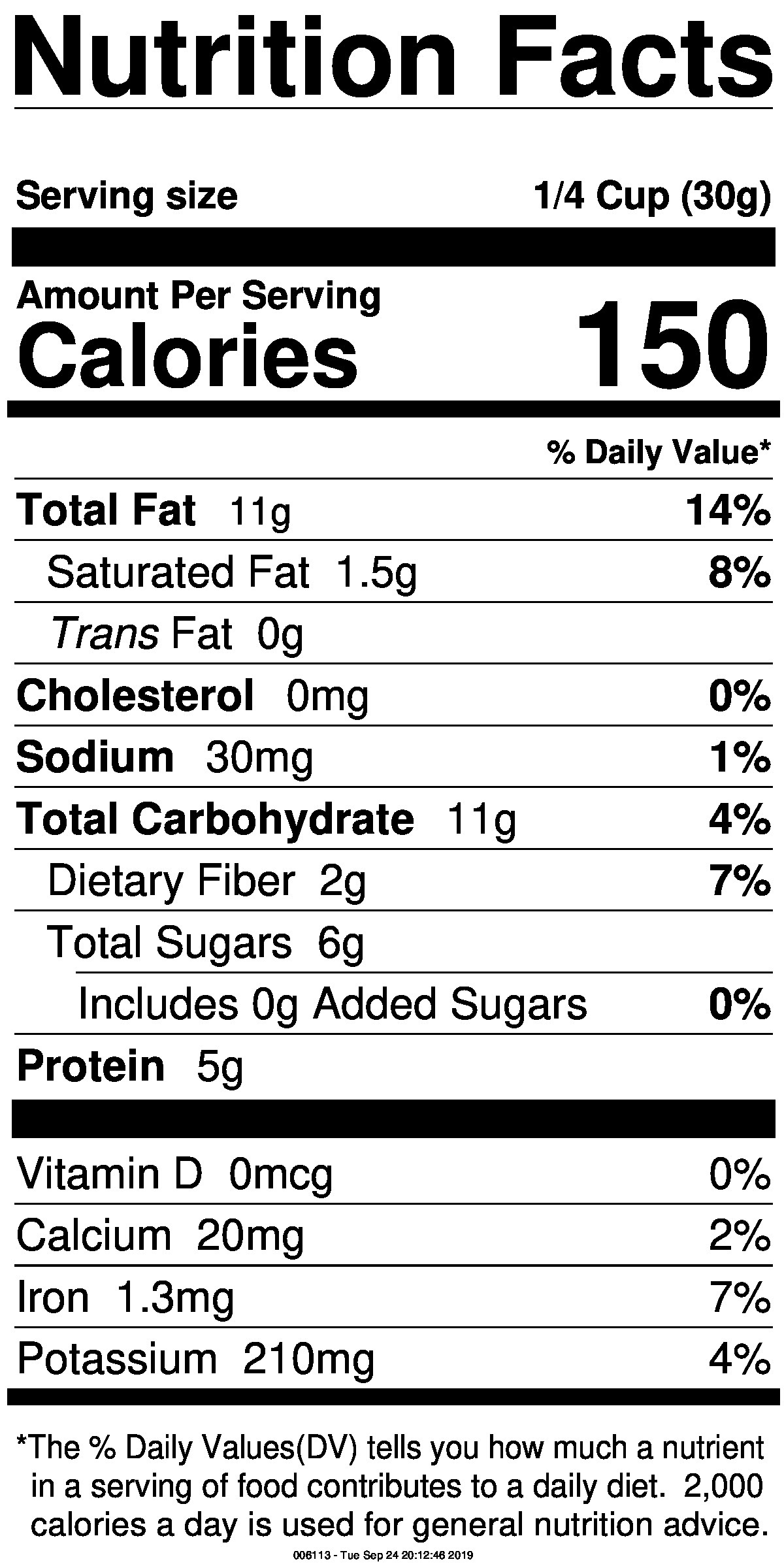 Ingredients:
Organic Raisins, Organic Dry Roasted Peanuts, Organic Tamari Roasted Sunflower Seeds (org. sunflower seeds, org. tamari shoyu sauce [water, org. soybeans, salt, org. wheat]), Organic Tamari Roasted Almonds (org. almonds, org. tamari shoyu sauce [water, org. soybeans, salt, org. wheat]), Organic Pumpkin Seeds, Organic Cashews
Other Details:
May contain milk, tree nuts
UPCs: 0‑86700‑06113‑8, 0‑86700‑68260‑9, 0‑86700‑68955‑4
Date added: 6/19/12
Related Products
Dark Chocolate Almonds - Fair Trade Certified Cocoa - Energy GO size available

Dark Chocolate Coconut Chews - Fair Trade Certified Cocoa - Energy GO size available

Organic Banana Chips, Crunchy, Non GMO verified - Energy GO size available

Organic Coffee Almond Coconut Chews - Energy GO size available

Organic Dry Roasted and Salted Sunflower Seeds - Also available in Energy GO size bags

Organic Oatmeal Raisin Chew - Energy GO size available

Organic Pumpkin Seeds, Grade A - Energy GO size available

Sea Salt & Apple Cider Vinegar Cashews - Energy GO size available!

Yogurt Raisins - Energy GO size available

Energy Power Mix

Hatch Chile Fiesta Mix

Hit The Trail Mix

Organic Chocolate Paradise Mix

Organic Cranberry Harvest Mix, Non-GMO Project Verified

Organic Deluxe Trail Mix

Organic Epic Adventure Mix

Organic Good Morning Crunch

Organic Greek Yogurt Odyssey Mix

Organic Hulled Sunflower Seeds

Organic Mango Grove Mix

Wasabi Samurai Mix

Zesta Fiesta Party Mix™

Organic Red Crushed Chiles - SunRidge Spice

Glazed Cinnamon Vanilla Almonds

Coconut - Medium Shredded

Dark Chocolate Nonpareils

Santa Fe Party Mix

Tropical Papaya Spears

Golden Bridge Candy Mix

Almond Cranberry Power Chews

Organic Semolina Couscous

Walnuts - Halves and Pieces Combo

Organic Chili Colorado Blend

Men's Energy Mix

Mixed Fruit - Tropical Chunks

Organic No Salt Dry Roasted Sunflower Seeds

Roasted Wasabi Peanuts

Sweet Turkish Apricots - Unsulphured

Organic Crispy Quinoa Cereal

Organic Coconut Flour

Organic Butter Toffee Almonds