Dry Roasted and Salted Pumpkin Seeds
Select a Size:
Product #419165

Roasted and Salted Pumpkin Seeds
Kosher
The KSA symbol is a firm guarantee to all consumers that the products bearing the symbol are in full compliance with the most demanding of kosher standards. You can be sure that your products will be marketable, enjoying the same status, recognition and acceptance, as any other reliably certified kosher product.
Non-GMO Project Verified
The Non-GMO Project Product Verification Program is North America's only third-party verification for non-GMO food and products. Third-party verification is the highest quality system when it comes to product labeling and certifications because it ensures products have been comprehensively evaluated by an independent party for compliance with a standard developed by industry experts and stakeholders.
Non-GMO
A GMO, or genetically modified organism, is a plant, animal, microorganism or other organism whose genetic makeup has been modified using recombinant DNA methods (also called gene splicing), gene modification or transgenic technology. This relatively new science creates unstable combinations of plant, animal, bacterial and viral genes that do not occur in nature or through traditional crossbreeding methods.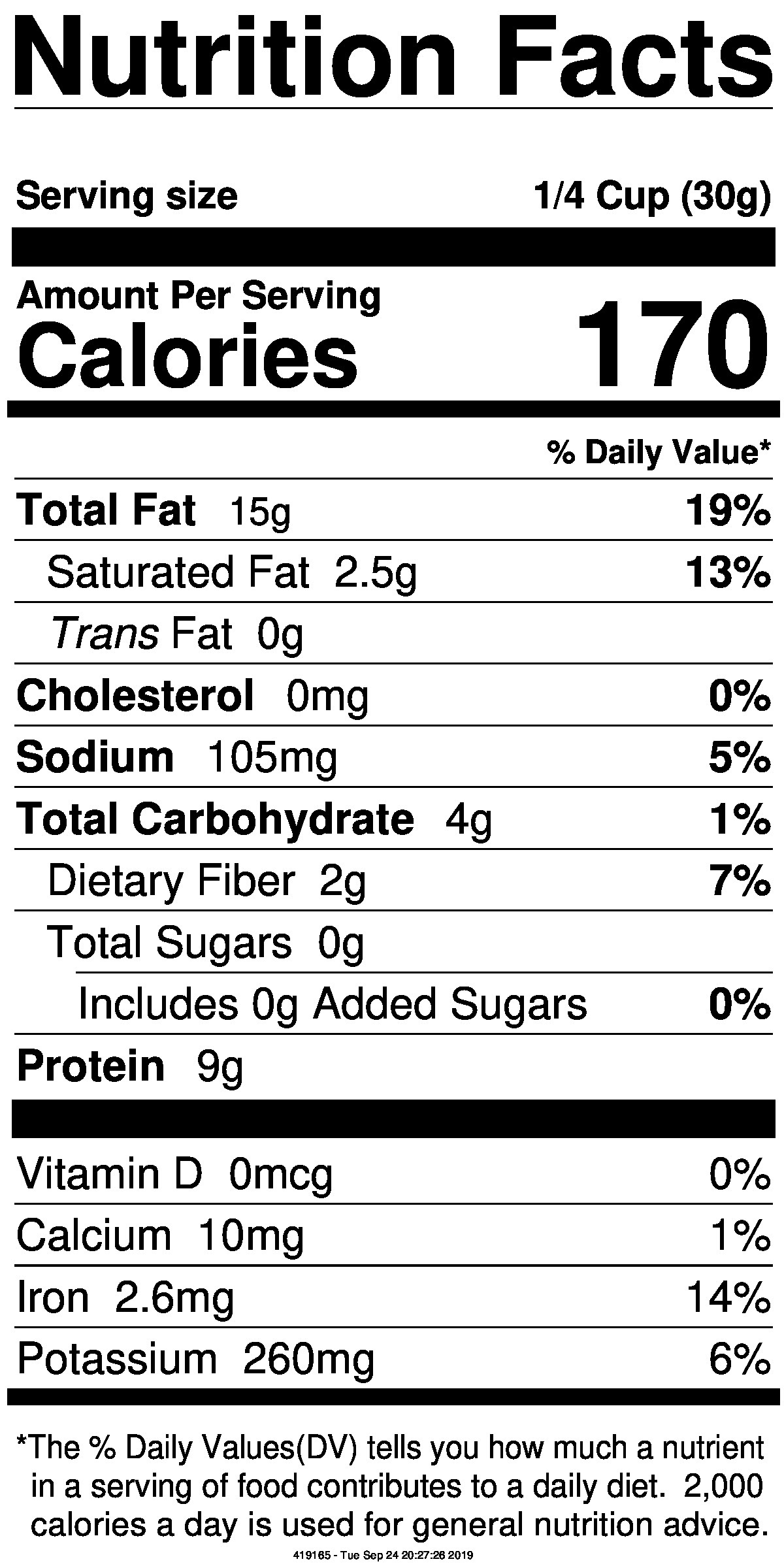 Ingredients:
Dry Roasted Shelled Pumpkin Seeds, Sea Salt.
Other Details:
May contain milk, peanuts, soy, tree nuts, wheat
UPCs: 0‑86700‑19165‑1
Date added: 7/11/12
Related Products
Organic Pumpkin Seeds - Dry Roasted and Salted

Cocoa Chips & Almonds Granola

Crispy Salted and Unsweetened Plantain Chips

Brazil Nuts

Organic Hulled Buckwheat Groats

Women's Vitality Mix

Jumbo Whole Roasted Cashews, No Salt

Steel Cut Oats

Almond Cranberry Power Chews

Corn Nuggets - Jumbo, Roasted and Salted, Non GMO

Organic Maca Root Powder

DoubleDecker Chocolate Chews

Wasabi Tamari Almonds

Organic Dark Chocolate Ginger

Organic Tamari Roasted Sunflower Seeds

Organic Dried Goji Berries

Cashews - Large White Pieces

Galaxy Mix

Glazed and Roasted Walnuts

Vanilla Chips - Creamy