Organic Banana Chips, Crunchy, Non GMO verified - Energy GO size available
Select a Size:
Product #429590





These Organic Banana Chips, Crunchy, Non GMO verified are a great snack, or treat for families in constant motion, folks with a busy schedule, or athletes heading out from a workout. Times change and we all seem busier than ever but that doesn't mean you don't need to take care of your engine. That's what makes these organic banana chips great. Natural nutrition, healthy, and just like you they are great on the GO! Kosher Parve (no Dairy) and USDA Certified Organic. Available in Energy GO packages as well!
USDA Organic
USDA organic products have strict production and labeling requirements. Organic products must be overseen by a USDA National Organic Program-authorized certifying agent, following all USDA organic regulations.
Kosher
The KSA symbol is a firm guarantee to all consumers that the products bearing the symbol are in full compliance with the most demanding of kosher standards. You can be sure that your products will be marketable, enjoying the same status, recognition and acceptance, as any other reliably certified kosher product.
QAI
QAI (Quality Assurance International) is a leading USDA-accredited organic product certifying agency. Founded in San Diego, California in 1989, QAI has been an active leader in the organic industry, advocating for high integrity organic regulations since its beginning. QAI is committed to ensuring organic integrity at every link in the organic production chain and providing excellent customer service, domestically and internationally.
Non-GMO Project Verified
The Non-GMO Project Product Verification Program is North America's only third-party verification for non-GMO food and products. Third-party verification is the highest quality system when it comes to product labeling and certifications because it ensures products have been comprehensively evaluated by an independent party for compliance with a standard developed by industry experts and stakeholders.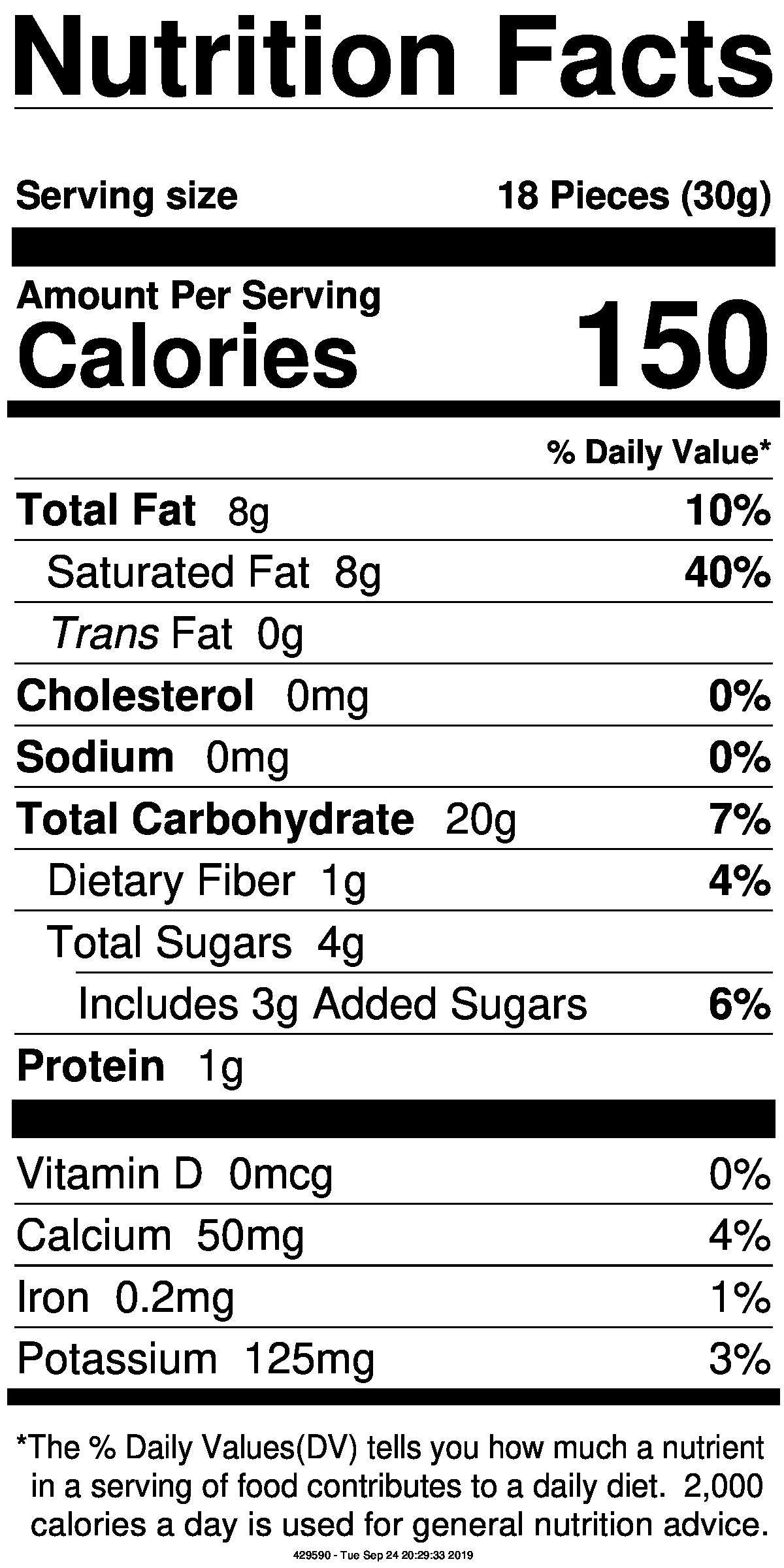 Ingredients:
Organic Bananas, Organic Coconut Oil, Organic Cane Sugar.
Other Details:
May contain tree nuts
Contains - Coconut
UPCs: 0‑86700‑29590‑8, 0‑86700‑68119‑0, 0‑86700‑68952‑3, 0‑86700‑66009‑6, 0‑86700‑68115‑2
Date added: 12/8/11
Related Products
Dark Chocolate Almonds - Fair Trade Certified Cocoa - Energy GO size available

Dark Chocolate Coconut Chews - Fair Trade Certified Cocoa - Energy GO size available

Organic Coffee Almond Coconut Chews - Energy GO size available

Organic Dry Roasted and Salted Sunflower Seeds - Also available in Energy GO size bags

Organic Hit The Trail Mix - Energy Go size available

Organic Oatmeal Raisin Chew - Energy GO size available

Organic Pumpkin Seeds, Grade A - Energy GO size available

Sea Salt & Apple Cider Vinegar Cashews - Energy GO size available!

Yogurt Raisins - Energy GO size available

Dry Roasted Almonds - Lightly Salted

Organic Jacob's Cattle Heirloom Beans

Organic Chocolate Paradise Mix

Dark Chocolate Papaya

Organic Whole Cashews Dry Roasted No Salt

Coconut - Medium Shredded

Blueberry Yogurt Raisins

Munchalot/Mixed Munchies

Sunflower Seeds, Shelled Raw

Dark Chocolate Cashew Clusters

Organic Sesame Seeds - Hulled White

Dark Chocolate Pumpkin Seeds

Roasted Wasabi Peas

Pistachios - In shell, dry roasted, no salt

Organic Psyllium Seed Husks

Organic Ground Paprika

Organic Granulated Garlic

Sweet Turkish Apricots - Unsulphured

Organic Roasted Cashews Sea Salted