Coconut - Sliced Chip
Select a Size:
Product #001110

The moveable feast of snacks, these Coconut Sliced Chips are a wonderful treat when your busy schedule collides with a life on the run. They are simply delicious. It is said that the fruit of the Tree of Life is the coconut. Apply named the Tree of Life because coconut is highly nutritious and rich in fiber, vitamins, and minerals. Kosher Parve (no Dairy).
Kosher
The KSA symbol is a firm guarantee to all consumers that the products bearing the symbol are in full compliance with the most demanding of kosher standards. You can be sure that your products will be marketable, enjoying the same status, recognition and acceptance, as any other reliably certified kosher product.
Non-GMO
A GMO, or genetically modified organism, is a plant, animal, microorganism or other organism whose genetic makeup has been modified using recombinant DNA methods (also called gene splicing), gene modification or transgenic technology. This relatively new science creates unstable combinations of plant, animal, bacterial and viral genes that do not occur in nature or through traditional crossbreeding methods.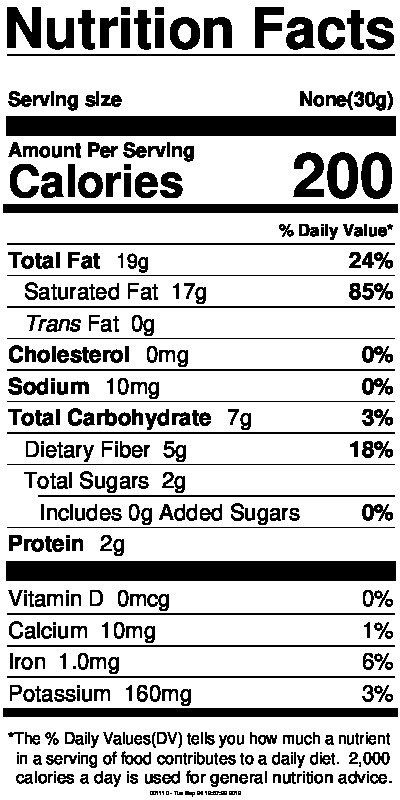 Ingredients:
Unsweetened Coconut Chips
Other Details:
May contain milk, peanuts, soy, tree nuts, wheat
UPCs: 0‑86700‑01110‑2
Date added: 9/10/15
Related Products
Banana Chips

Cocoa Chips & Almonds Granola

Coconut Almond Cashew Granola

Dark Chocolate Banana Chips

Organic Banana Chips, Crunchy, Non GMO verified - Energy GO size available

Organic Chocolate Paradise Mix

Organic Fruit Mix Favorite

Organic Goji Chocolate Banana Mix

Organic Greek Yogurt Banana Chips

Organic Greek Yogurt Odyssey Mix

Organic Red Chile Banana Chips

Organic Sliced Coconut

Treasure Trove Mix

Tropical Trail Mix

Hatch Green Chile Roasted Cashews

Organic Dark Chocolate Bananas - Fair Trade Certified

Dark Chocolate Stars

Organic Sunny Fruit Slices

Organic Strawberry Dawn Granola

Roasted Wasabi Peas

Wild Ginger Harvest Mix

Maple Walnut Granola

Turbinado Sugar

Organic Roasted Cashews Sea Salted

Cinnamon Almond Berry Mix

Organic Dark Chocolate Espresso Beans

Pineapple Rings

Milk Chocolate Cranberries

Chile Spiced Mango

Zen Party Mix

Hazelnut Butter Stock - Chocolate Chip Mix

Walnuts - Medium size pieces

Organic Pinto Beans

Organic Raw Pecans